Archive for the 'Media and Journalism' Category
Thursday, January 27, 2011, 7:20 pm
No Comments | Post a Comment
Give each geek a blog and you'll get a taste of the many flavors science can take on.
Some will be scholarly, crusading or probing, others whimsical or funny, but each flavor will reveal something about how its creator ticks. As Robert Krulwich, NPR's science correspondent and keynote speaker at ScienceOnline 2011, said in an interview: "You can't help yourself. You ask the question that your soul asks."
Unlike the more than 200 registered bloggers at ScienceOnline 2011 who mingled Jan. 13 to Jan. 16 in Research Triangle Park, Krulwich doesn't blog. But his Radio Lab podcasts and Nova videos represented one flavor. Darlene Cavalier, Mary Canady and Brian Malow provided distinctly different flavors. All four talked to Science in the Triangle about their approach. (Watch Krulwich's interview here.)
Cavalier is a former Disney Publishing executive who outed herself as a former Philadelphia 76s cheerleader to advocate for science literacy. She started Science Cheearleader.com and helps match people without a hard science background with scientists who need help with research such as keeping records of birds' migratory patterns, taking water samples or measuring the amount of snow fallen.
Watch Cavalier talk about her citizen scientist flavor:
Canady is a biochemistry Ph.D. who switched from bench science to marketing. In 2008, she started Comprendia.com, a virtual bioscience consulting group in San Diego and began thinking about whether marketing and science blogging can mix.
"We're forging new trails here and need to be creative in thinking about these new relationships – think outside the box, as trite as it may sound," she said during a ScienceOnline 2011 session.
The iron curtain between advertisement and content is best handled with care as last year's Pepsigate at Scienceblogs.com showed. More than 20 contributors pulled out after postings by Pepsi scientists were to be published on the first-of-its-kind science blogging network.
But what about scientists posting on corporate blogs, companies sponsoring ask-an-expert forums and businesses underwriting independent blogs?
Here is Canady's take on the business flavor: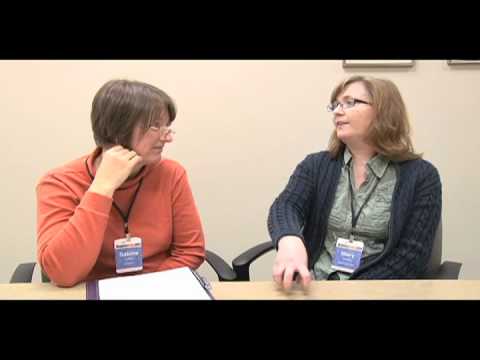 Malow is a professional stand-up comedian with a liberal arts degree who is feeling his way into science comedy.
A voracious reader who is intrigued by astronomy, physics and evolution, he started adding jokes about particles, Star Wars and creationism to his repertoire a few years ago.
He said he wasn't hired to perform at ScienceOnline 2011 but pulled together an entire show just hours before volunteering to go on stage.
Watch an uncut interview with Malow about his taste of fun: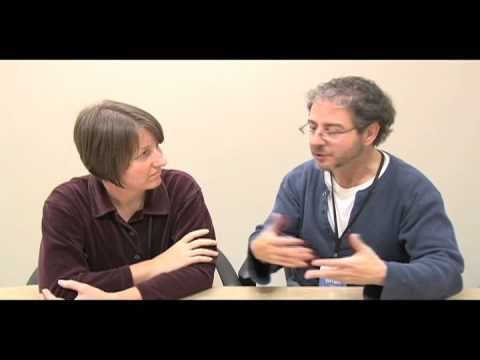 Sunday, January 16, 2011, 1:22 am
3 Comments | Post a Comment
The credibility of science blogging is getting much scrutiny at the ScienceOnline 2011 conference, which is under way in North Carolina's Research Triangle Park.
Two sessions on Saturday and one on Sunday addressed the quality of online science writing and ethics standards. Two touched on the fact that while blogs are rarely edited, posts published on them can be difficult to distinguish from edited content published in magazines and newspapers and without an editor, mistakes and sloppiness can happen. In the third session, journalistic standards of separating advertisement and content took center stage.
Virginia Hughes, the former community manager of ScienceBlogs and a panelist in the "Science Journalism Online: Better, or Merely Different" session, suggested labeling blogs. Ed Yong, a blogger for Discover Magazine and a panelist at the "Blogs, Bloggers and Boundaries?" session, said a blogger writing for a larger audience encounters more boundaries to get scientific information across and standards help to break down those boundaries.
OK. So what if there was a rating system for blogs, sort of a Good Blogging seal of approval to attract a wider, more general audience from traditional media – particularly from the many regional newspapers that have eliminated local science reporting. What if such a rating system would clearly identify blogs and rate how credible their information is?
The first question that arises is who would define the standards. The second question is who would apply them. Once both questions are answered, science blogging may be more defined, but it would also lose some of the vibrancy that comes from the freedom of not having an editor, of being able to write about the most obscure or the most mundane in any conceivable format.
Technology allows everybody to blog, to say his or her piece without having to pay printing costs. This offers the opportunity to depose authorities who speak from up high.
Sure, some blog posts will be inscrutable, wrong or wrong-headed. But others will be fantastic experiments of creativity. Some of them may even lead us to a way to write about science and make a living doing it.
It is premature to want to define science blogging while the future of online communication is far from clear.
Online science writing must remain as big a tent as possible, avoid institutionalization and leave judgment calls about quality and credibility to the audience.
What would help the audience do that, is more transparency – who the blogger is, where he or she is coming from, links to sources and disclosures of potential conflicts of interest.
Thursday, January 13, 2011, 12:46 pm
No Comments | Post a Comment
Dr. David Kroll is a man who wears many hats: researcher, professor, science blogger, and musician. His life seems to tie together all these separate parts into one cohesive theme of giving back to the community and enriching the lives of others.
Kroll grew up on a neighborhood perched on a hill that afforded a direct view of the Roche tower in Nutley, New Jersey. Growing up looking at the Roche tower every day lead him to take an interest in pharmacology and the drug industry. He went to college as a first generation student and majored in Toxicology at Philadelphia College of Pharmacy and Science, following his dream of someday being able to help others by working in that same tower.
Throughout his career, Kroll kept in mind that knowledge can be used inclusively or exclusively. He wanted to use his knowledge of pharmacology to help regular people navigate the drugs that they were taking, but wasn't very prepared for the discovery that science could be a profession so isolated from the public at large. He starting blogging as an outlet for his desire to educate the wider public on drugs, supplements, and pharmacology in general. Kroll recently
celebrated his fifth year of blogging in December 2010, blogging for ScienceBlogs, the American Chemical Society's CENtral Science, and for PLoS Blogs over the years.
The path of Kroll's educational and musical career intersect at many points in his life. He started playing guitar at the age of fourteen as a way to escape being labeled as a "real dork in high school." However, the release of The Police's Outlandos D'Amour and Joe Jackson's Look Sharp lead him to an appreciation of the bass, which he switched to a year after picking up the guitar. This step proved to be successful as he went on to play bass in his first band with his high school girlfriend, his high school friend, his guidance counselor, and his high school history teacher. Kroll cites his history teacher as being a huge influence on getting him interested in the history of social injustice and specifically the history of science. His first band played bars and clubs around town throughout Kroll's high school years.
In college, he played mostly solo but would occasionally play with his old high school band while visiting home. Around the time he was finishing college, Tom Petty and the Heartbreaker's "Southern Accents" was released and proved to be yet another pivotal album in his life. This Tom Petty album release was right around the time of his acceptance into a pharmacology doctorate program at the University of Florida in Gainesville, the hometown of the Heartbreakers. Tom Rowe, his advisor at UF, was supportive of a work/life balance, and this freedom allowed him to play in a U2 tribute band for two years in graduate school.
After finishing his Ph.D., he landed an offer for a postdoc position at Roche, the original setting of his dream of working in pharmacology. He was literally within days of accepting when he got offered a position at the University of Colorado in Denver. He ended up taking the position in Denver instead, where he worked on the transcriptional regulation of the CREB protein and a shortly afterward went on to land an Assistant Professor position in the School of Pharmacology at the University of Colorado Health Sciences Center.
The move to Denver proved to be fortuitous to his musical life as well. One day he was typing up an abstract in the main office of the Division of Endocrinology, Metabolism, and Diabetes at the Univ of Colorado Health Sciences Center when a endocrinology fellow walked in to answer a page for a gig he was playing later that evening. Kroll struck up a conversation, mentioning that he was a bass player, and got invited to jam with Dan Bessesen, and his bandmate, Jay Reusch, a cardiologist whose wife was also an endocrinology fellow. These jam sessions evolved into Dogs in the Yard, an adult alternative band that lasted for eleven years, from 1990 – 2001. They played gigs at the medical center, fundraisers, and even the endocrine department Christmas party. They released two CDs, one in 1997 entitled "Sunday Afternoon" and one in 2001, "Til the Summer Fades Away." About eight years into the band, EMI called and offered them a move to LA to pursue the possibility of a record deal. But as all of the people in the band had work and family obligations, they decided to turn it down.
Eleven years is an ancient time in band years, but all good things must come to an end. Kroll left Dogs in the Yard after he met his now-wife at a cancer research conference in Colorado. She was a Duke oncology physician-scientist who lead him to doing a sabbatical at Duke that eventually lead to a job offer in the North Carolina Research Triangle at RTI International. Despite the loss of the band, he continued his musical career with other scientists, playing with
Nick Oberlies, a chemistry postdoc, scientific collaborator at RTI, and DJ at Duke University station WXDU. He also played with Cole Guerra, a psychology graduate student at Duke who Kroll contacted after reading an article featuring him in the local Triangle Independent Weekly. Kroll joined his band on bass for shows at Cafe Driade and Local 506 in Chapel Hill. However, at RTI he missed the joy of teaching students and moved to take a professorship at North
Carolina Central University in Durham.
Kroll has continued to keep in touch with music at NCCU, playing the annual Faculty Talent Show and working on solo projects. Lately, he's been writing songs under his own name in preparation to record a solo album called "From Denver to Durham." The namesake of his album comes from the fact that both cities have an interstate exit numbered 284 that leads to the international airport, a testament to the myriad levels of interconnectivity in both his scientific and musical career.
At the BlogTogether bash in Durham in October, he debuted a song called "Minister of the Ether" that pays tribute to Anton Zuiker in celebration of his 10th year of blogging and to all his work in the blogging community. Check out an exclusive video below of Kroll giving an acoustic performance of the song under the bull statue in Durham's city center.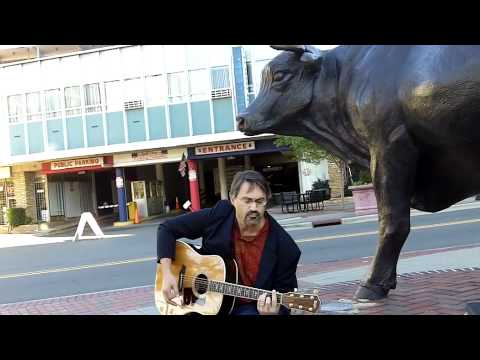 Thursday, December 2, 2010, 11:57 am
No Comments | Post a Comment
Continuing with the tradition from last two years, I occasionally post interviews with some of the participants of the ScienceOnline2010 conference that was held in the Research Triangle Park, NC back in January. As the next one – ScienceOnline2011 – is quickly approaching, I hope you enjoy these Q&As with past participants. See all the interviews in this series here. You can check out previous years' interviews as well: 2008 and 2009.
Today, I asked Kelly Chi to answer a few questions.
Welcome to Science In The Triangle. Would you, please, tell my readers a little bit more about yourself? Where are you coming from (both geographically and philosophically)? What is your (scientific) background?
I'm a freelance science writer based in Cary, North Carolina, but I spent most of my life thinking that I would one day become a scientist. It turns out that I am terrible at experiments. Although I realized this during my first year of graduate school, I kept going – for three years on the PhD track, stubbornly – with the thought that one day it wouldn't matter that my hands shake during rat brain surgery. And I could be a professor, think of new experiments, write papers and teach.
During graduate school, I started writing for the college newspaper and realized that I loved writing about science. Short-term deadlines fit me perfectly, I also learned. So I left my PhD, got a master's and started the science and medical journalism program at UNC-Chapel Hill in 2006.
Leaving my PhD was really difficult for me, not only because I hate the idea of quitting but because it seemed risky to pursue an entirely new career path. But since that time, I've learned that there are a whole bunch of writers and editors out there who are also just like me.
Tell us a little more about your career trajectory so far: interesting projects past and present?
Read more…
Tuesday, November 2, 2010, 11:57 am
No Comments | Post a Comment
Continuing with the tradition from last two years, I occasionally post interviews with some of the participants of the ScienceOnline2010 conference that was held in the Research Triangle Park, NC back in January. As the next one – ScienceOnline2011 – is quickly approaching, I hope you enjoy these Q&As with past participants. See all the interviews in this series here. You can check out previous years' interviews as well: 2008 and 2009.
Today, I asked Marla Broadfoot to answer a few questions.
Read more…
Sunday, October 3, 2010, 3:18 pm
1 Comment | Post a Comment
Well, hopefully not the real MRSA in your home! But the book Superbug will be introduced to the audiences around here. Author Maryn McKenna (Twitter) will be in the Triangle this week.
First, on Wednesday October 6th at 7:30 pm, Maryn will be reading at my most favourite bookstore in the world – Quail Ridge Books in Raleigh. I'll be there.
Then, next day, on Thursday October 7th at 7:00 pm, she will be going over to Durham to read/sign at The Regulator Bookshop. I may try to come to that again.
Join us if you are in town for one or the other or both events!
Monday, September 27, 2010, 1:11 am
1 Comment | Post a Comment
The Open Laboratory is the annual anthology of the best writing on science blogs. Yes, this is an actual, physical book, printed on paper.
The aim of the book is twofold: first, to showcase the quality of science blogging to the audience that does not read blogs and perhaps has a negative opinion of blogs due to the anti-blog propaganda in the mainstream media, and second, to build and strengthen the science blogging community.
The idea for the compilation came from a discussion between Anton Zuiker and a representative of the Raleigh-based online book publisher Lulu.com. They were trying to find a fun and useful way for the company to sponsor the first ScienceOnline conference (then called Triangle Science Blogging Conference). As it was late December 2006 there were only about four weeks left until the conference, so they thought there was not sufficient time to collect and publish such a book and have it ready in time for the meeting.
Read more…
Saturday, September 25, 2010, 3:42 pm
3 Comments | Post a Comment
This Thursday and Friday I attended the Block By Block conference in Chicago, a meeting about local and niche online journalism.
The conference was organized by Michele McLellan (Twitter), a Reynolds Fellow, and Jay Rosen (Twitter), professor of journalism at NYU.
For various reasons (mostly personal and financial) I had to miss a number of interesting conferences this year, from Lindau Nobel meeting, through Open Summit in Berkeley, to Science Online London, but this meeting was worth the scramble and a tight-budget travel. Out of 120 participants, the only one I have met before in real life was Jay Rosen. But I knew a number of others from their online work – on Twitter, their blogs, their news-sites and in case of Scott Rosenberg (Twitter) also his excellent book which I keep recommending to everyone who is interested in blogs.
The first thing I did when I arrived was edit my name-tag. I crossed off "PLoS" and in its place wrote in big black letters ScienceInTheTriangle.com – the local, niche news-site we have been developing over the past three years or so. What we are doing with the site and our experiences with developing it were topics of interest for many of the people I met and talked to at the conference.
Read more…
Saturday, September 25, 2010, 10:28 am
6 Comments | Post a Comment
As the readers of this blog already know, Adam Savage and Jamie Hyneman of the Mythbusters show came to Chapel Hill last week and did an event at the Dean Dome on UNC campus as the starting event of the NC Science Festival.
I am not going to recap what happened, as Tyler Dukes, Ross Maloney and Maria Gontaruk did it masterfully last week. I want to think a little bit more about Mythbusters and what their show means in the ecosystem of science media and communication.
I assume that many will agree that the goal of science communication is not just to highlight the latest scientific findings, but also to educate the population about science: what it is, how it works, and to what extent should scientists be trusted. In a democratic society in which science is trusted, the population drives their leaders to adopt reality-based policy solutions to problems. Which is a Good Thing, I hope you agree.
There is an idea out there that science needs rock stars. The name bandied about as an example is usually Carl Sagan who seems to be beloved and deified by people of certain age, geography and socio-economic status. Thus the question is often posed as "How do we get a new Carl Sagan?".
But the media ecosystem is completely different today in comparison to the 1970s when Sagan and some others were on TV. Thus the question is erroneous to begin with. We have many, many science communicators who are much better than Sagan ever was. But in the new media ecosystem, they are relegated to the "pull media" instead of the "push media". They are all over the places visited by people who are already interested in science, but are effectively barred from the media with broad reach and wide audience.
So, we need to rethink our question. It is not "who can be the next Carl Sagan?" but "what works in today's media ecosystem?". We can try to get scientists onto TV, an uphill battle against the media houses, but we can also see what existing and popular shows already do a good job at pursing our goals: how science works, and why empiricism wins the day.
And "what works in today's media ecosystem", like it or not, is Mythbusters.
Sagan, Attenborough, Cousteau, Bellamy and others were scientists. Adam and Jamie are not – at least in the sense of not having formal education and degrees in science. Jamie grew up on a farm, and both of them went through a variety of jobs, mostly manual work, that required them to use ingenuity and come up with hands-on solutions to immediate problems in their work. Their life experience turned them into de facto scientists. If you agree that science is a refined and regimented common sense, Adam and Jamie have developed it to the maximum that an informal training can get one to. On one hand, they are a return to the era of Victorian gentlemen naturalists when doing science did not require a PhD in science – everyone could do it. On the other hand, they are the modern Citizen Scientists – where again, doing science does not require a PhD in science – everyone can do it.
One thing that Jamie and Adam stress is that their show is unlike any of the others we like to mention – they are not "demonstrations" or narrated visuals of the wonders of nature. They are experiments, answering real questions with real work. They start with a question and do not know what the final answer will be – and that is the key: their audiences are going with them for the ride knowing that this is not a high school science lab where answers are already known in advance. It is a journey that the audience takes together with Adam and Jamie.
Sure, the purists may object to some aspects of the methodology of their experiments – a sample size of one, for example – but Mythbusters is not a school program, it is a TV show, thus entertainment. Many of the tests they do are too big and expensive to be done more than once so a sample size of one is better than a sample size of zero (yes, I have seen wonderful N=1 papers in big journals, e.g., dissection of a whale tongue showing the counter-current arrangement of blood vessels published in Science – would you as a reviewer insist they kill a few more whales to up their sample sizes?).
There was a show, though, that was somewhat of a precursor to Mythbusters. It was Don't Ask Me which ran on ITV (and most of Europe) back in the 1970s, at the same time when Sagan and others had their heyday.
I asked Jamie and Adam if they ever saw that show and they didn't.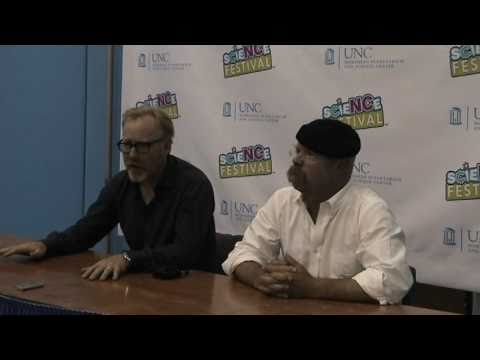 Of course, with so many decades in-between, there are some big difference between the shows, but as I mentioned, the show was just a precursor, a seed of an idea, that years later resulted in a full-blown realization of that idea in Mytbusters. For one, Don't Ask Me was filmed inside the studio, with a very small budget. There was no way they could do things that require a lot of space and money, or that involved huge explosions. It was obviously and transparently 'fake' – there is no way an audience member could stand up with a question and immediately have it answered with all the tools and props ready to go in the studio within seconds – that was obviously staged.
Also, some of the questions asked by the audience members were already answered by science before – the scientists knew it, but the lay audience did not. This made answering the questions easier, as Magnus Pyke, Miriam Stoppard and David Bellamy could confidently do their experiments, knowing in advance what the result would be. Much of what occurs on Mythbusters are really novel situations – answering questions for the first time in history, with the answer far from certain.
What unites these two shows is audience participation – the questions come from the public, the show acknowledges the questions (and even names or shows the face of the person who asked it), and then tries to answer the questions by doing experiments, not by lecturing or explaining or hand-waving (though Magnus Pyke did literally wave his hands a lot). Knowing or not what the answer would be, the show hosts and the audience go for the ride together – designing and doing the experiment – the exalted common sense that looks awfully like scientific method.
What also unites these two shows is how this audience engagement translates itself into real-world engagement. Watching BBC Survival, or Cousteau, or Attenborough was a solitary event – you turn on the TV, watch it, enjoy it, learn something, and that is it. If it is Sagan late at night, you fall asleep halfway through. But if it is Don't Ask Me, you discuss the show the next day at school or work. You debate the results of the experiments. This is exactly what happens today with Mythbusters – one thing that Jamie and Adam say they are the proudest of is that the morning after the show, kids ask their science teachers to discuss the show. Online world also discusses their show, especially if the results are difficult to interpret or bust some very dearly held myths.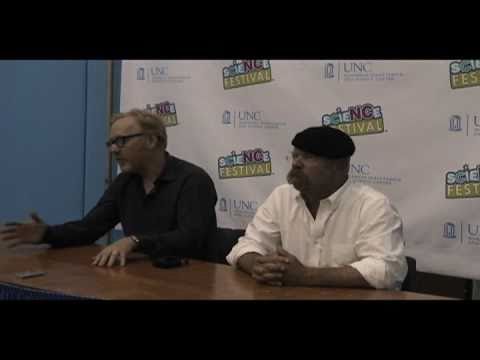 Don't Ask Me also busted myths. I remember vividly their very first episode – they answered the question "can newborns swim" by throwing babies into a pool. Aside from the fact that no IRB would allow such an experiment today, it is important to remember that back in 1970s this issue was resolved by science, but it was still a very contentious issue among the public. Miriam Stoppard knew very well that the babies she was throwing would actually swim, but half the audience did not believe it….until they saw it with their own eyes. That day, this myth was busted forever. And it made for great, exciting television!
What Mythbusters are doing right is not so much that they are driving thousands of kids into dead-end scientific careers. What they are doing – and what is really worthwhile – is that they are helping millions of their viewers internalize empiricism as the way to think about the world. Questions are not answered by preaching or lecturing or reading or studying at the Google University (although all of those are useful for getting additional information after the show), but by testing the claims by doing experiments. They are helping millions enter the Enlightenment worldview and way of thinking.
Furthermore, by not being scientists themselves, by not looking like scientists, dressing like scientists, talking like scientists, or repeatedly stating that what they are doing is science, Jamie and Adam make science approachable to everyone. If they can do science, everyone can. Just like in Victorian England, and just like Citizen Scientists today. They are not pointy-headed, elitist denizens of the Ivory Tower, but people just like you and me, people who have been given the resources to do what most of us would be able to do as well with some thinking and work. They are our representatives, members of our own community, not someone talking down to us from a position of power. And in today's climate in the USA, this is very important.
Finally, Mythbusters teach skepticism. Many of the myths they busted were strongly believed by millions…until they saw the show that obviously demonstrated that the myth is wrong. Sure, there are always a few die-hards who will contest everything to death, but most people accept what they see on Mythbusters and learn from it. And by watching the show regularly, they get into a skeptical habit that holds over in other realms of life as well – not trusting anyone (preachers, teachers, politicians, TV talking-heads, journalists, etc.) on their word, but demanding to see the data, the results of empirical work. Mythbusters are doing as much, or more, than Sagan and others did in the 1970s, to inculcate the public into a reality-based thinking. So what if sometimes they have N=1?