Friday, December 3, 2010, 1:18 am
No Comments | Post a Comment
The launch of the three-dimensional quilt during World AIDS Day Wednesday was accompanied by, as you would expect, songs, images and poems to remember loved ones who lived with and died from HIV.
But in every other respect this gathering was different from the largest community arts project in the world, the AIDS Memorial Quilt that was founded in 1987.
The 3D AIDS quilt, which includes contributions from the University of North Carolina at Chapel Hill Center for AIDS Research and the Triangle Global Health Consortium, is laid out below an enormous tree that grows on Storybook Island in Second Life, a three-dimensional virtual world maintained by Linden Lab of San Francisco.
As Jena Ball, one of the creators of the 3D AIDS quilt, put it, this quilt "doesn't have to be folded and stored. It's available 24/7, can live in multiple places and grow to any size."
Ball, a writer who recently moved from Los Angeles to North Carolina's Research Triangle area, made that point through her avatar, Jenaia Morane, during the launch celebration, which took place in an auditorium inside the tree on Storybook Island. Because, you see, you can only visit the 3D quilt in the form of an avatar. I was there as Zaidy Xenga, a redhead wearing a gray suit and one black shoe.
With the 3D AIDS quilt, Ball and her collaborators at Startled Cat studios – Martin Keltz, an Emmy award winning producer, and Doug Thompson, an Internet marketing entrepreneur – built on the Karuna initiative, a HIV/AIDS storytelling project in Second Life that kicked off in 2008 with a grant from the National Library of Medicine.
The initiative now consists of multiple Second Life islands, all owned by Startled Cat. On Karuna island, avatars can, for example, read the panels in the AIDS poetry garden, learn about the human immunodeficiency virus or visit the Ryan White tree. The seven-part Uncle D story quest is spread out over six islands. Avatars going on the quest can visit the house of Uncle D, a person who lived with HIV, and read his diary.
Here's a video of Keltz's avatar, Marty Snowpaw, going on one of the Uncle D story quests: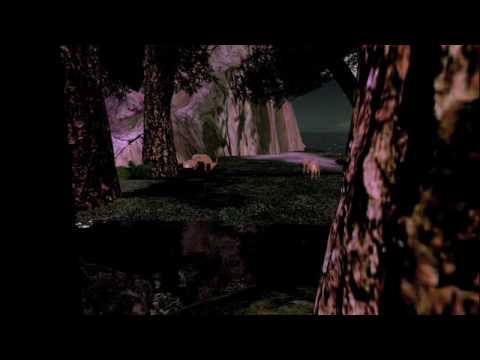 The 3D AIDS quilt is on yet another Second Life island. The quilt consists of rooms that commemorate people who have died of AIDS. My avatar, Zaidy Xenga, teleported to a few of the rooms.
One of the rooms is dedicated to Bobby, who loved flying. My avatar arrived in the room and looked at a single-engine plane frozen in mid-flight.
The next visit took me into the sleeping quarters of an AIDS orphanage in South Africa. The beds were made of logs. Spread across the floor was a play carpet that had the streets and buildings of a village woven into it. A slide show on one wall showed pictures of South African children playing.
The room is a contribution of the Triangle Global Health Consortium and represents a memory of Nicole Fouche, TGHC's executive director who grew up in South Africa. The memory is of a day in a park when a child took Fouche's hand. The incident led her to realize there were entire orphanages in South Africa filled with children who lost their parents to AIDS, Fouche's avatar said during the launch ceremonies.
Banners above the beds displayed the names of TGHC's members, including Glaxo SmithKline, at whose U.S. headquarters in RTP the first AIDS drug was discovered in 1984, Duke University, UNC and RTI International.
The TGHC room on the 3D quilt commemorates the more than 16 million children under 18 who have been orphaned by HIV worldwide.
As Zaidy Xenga I also visited the room contributed by the UNC Center of AIDS Research, which is a collaboration of UNC, RTI and Family Health International.
On panels on the room's wall, Vanessa White, aka Vanie MacBeth in Second Life, tells the story of Ann, who volunteered to speak about living with HIV to more than 300 UNC students on World AIDS Days. White manages the community outreach for the UNC Center for AIDS Research and recruited Ann before she died at 42 of complications from AIDS. An empty chair below the last story panel represents her death.
My avatar also sat next to avatars of more than 40 other visitors from across the world who gathered in the auditorium inside the tree on Storybook Island. Some wore billowing dresses, other jeans, wings or Werewolf skins. In Second Life, you can take on any shape you like, even glowing green skin. One of the avatars had "I am HIV+" written as part of its name.
On the panel in the center of the auditorium sat Jokay Wollongong, the avatar of Jo Kay, an Australian woman who created the JokaydiaGrid, a virtual world for educators and students age 10 to 16. A copy of the 3D AIDS quilt on JokaydiaGrid is available for commemorative rooms build by pre-teens and teens who are not allowed to go onto Second Life.