Saturday, September 25, 2010, 10:28 am
6 Comments | Post a Comment
As the readers of this blog already know, Adam Savage and Jamie Hyneman of the Mythbusters show came to Chapel Hill last week and did an event at the Dean Dome on UNC campus as the starting event of the NC Science Festival.
I am not going to recap what happened, as Tyler Dukes, Ross Maloney and Maria Gontaruk did it masterfully last week. I want to think a little bit more about Mythbusters and what their show means in the ecosystem of science media and communication.
I assume that many will agree that the goal of science communication is not just to highlight the latest scientific findings, but also to educate the population about science: what it is, how it works, and to what extent should scientists be trusted. In a democratic society in which science is trusted, the population drives their leaders to adopt reality-based policy solutions to problems. Which is a Good Thing, I hope you agree.
There is an idea out there that science needs rock stars. The name bandied about as an example is usually Carl Sagan who seems to be beloved and deified by people of certain age, geography and socio-economic status. Thus the question is often posed as "How do we get a new Carl Sagan?".
But the media ecosystem is completely different today in comparison to the 1970s when Sagan and some others were on TV. Thus the question is erroneous to begin with. We have many, many science communicators who are much better than Sagan ever was. But in the new media ecosystem, they are relegated to the "pull media" instead of the "push media". They are all over the places visited by people who are already interested in science, but are effectively barred from the media with broad reach and wide audience.
So, we need to rethink our question. It is not "who can be the next Carl Sagan?" but "what works in today's media ecosystem?". We can try to get scientists onto TV, an uphill battle against the media houses, but we can also see what existing and popular shows already do a good job at pursing our goals: how science works, and why empiricism wins the day.
And "what works in today's media ecosystem", like it or not, is Mythbusters.
Sagan, Attenborough, Cousteau, Bellamy and others were scientists. Adam and Jamie are not – at least in the sense of not having formal education and degrees in science. Jamie grew up on a farm, and both of them went through a variety of jobs, mostly manual work, that required them to use ingenuity and come up with hands-on solutions to immediate problems in their work. Their life experience turned them into de facto scientists. If you agree that science is a refined and regimented common sense, Adam and Jamie have developed it to the maximum that an informal training can get one to. On one hand, they are a return to the era of Victorian gentlemen naturalists when doing science did not require a PhD in science – everyone could do it. On the other hand, they are the modern Citizen Scientists – where again, doing science does not require a PhD in science – everyone can do it.
One thing that Jamie and Adam stress is that their show is unlike any of the others we like to mention – they are not "demonstrations" or narrated visuals of the wonders of nature. They are experiments, answering real questions with real work. They start with a question and do not know what the final answer will be – and that is the key: their audiences are going with them for the ride knowing that this is not a high school science lab where answers are already known in advance. It is a journey that the audience takes together with Adam and Jamie.
Sure, the purists may object to some aspects of the methodology of their experiments – a sample size of one, for example – but Mythbusters is not a school program, it is a TV show, thus entertainment. Many of the tests they do are too big and expensive to be done more than once so a sample size of one is better than a sample size of zero (yes, I have seen wonderful N=1 papers in big journals, e.g., dissection of a whale tongue showing the counter-current arrangement of blood vessels published in Science – would you as a reviewer insist they kill a few more whales to up their sample sizes?).
There was a show, though, that was somewhat of a precursor to Mythbusters. It was Don't Ask Me which ran on ITV (and most of Europe) back in the 1970s, at the same time when Sagan and others had their heyday.
I asked Jamie and Adam if they ever saw that show and they didn't.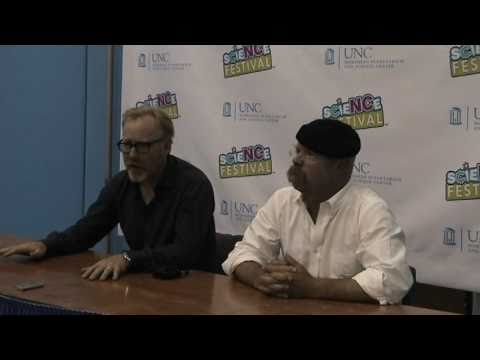 Of course, with so many decades in-between, there are some big difference between the shows, but as I mentioned, the show was just a precursor, a seed of an idea, that years later resulted in a full-blown realization of that idea in Mytbusters. For one, Don't Ask Me was filmed inside the studio, with a very small budget. There was no way they could do things that require a lot of space and money, or that involved huge explosions. It was obviously and transparently 'fake' – there is no way an audience member could stand up with a question and immediately have it answered with all the tools and props ready to go in the studio within seconds – that was obviously staged.
Also, some of the questions asked by the audience members were already answered by science before – the scientists knew it, but the lay audience did not. This made answering the questions easier, as Magnus Pyke, Miriam Stoppard and David Bellamy could confidently do their experiments, knowing in advance what the result would be. Much of what occurs on Mythbusters are really novel situations – answering questions for the first time in history, with the answer far from certain.
What unites these two shows is audience participation – the questions come from the public, the show acknowledges the questions (and even names or shows the face of the person who asked it), and then tries to answer the questions by doing experiments, not by lecturing or explaining or hand-waving (though Magnus Pyke did literally wave his hands a lot). Knowing or not what the answer would be, the show hosts and the audience go for the ride together – designing and doing the experiment – the exalted common sense that looks awfully like scientific method.
What also unites these two shows is how this audience engagement translates itself into real-world engagement. Watching BBC Survival, or Cousteau, or Attenborough was a solitary event – you turn on the TV, watch it, enjoy it, learn something, and that is it. If it is Sagan late at night, you fall asleep halfway through. But if it is Don't Ask Me, you discuss the show the next day at school or work. You debate the results of the experiments. This is exactly what happens today with Mythbusters – one thing that Jamie and Adam say they are the proudest of is that the morning after the show, kids ask their science teachers to discuss the show. Online world also discusses their show, especially if the results are difficult to interpret or bust some very dearly held myths.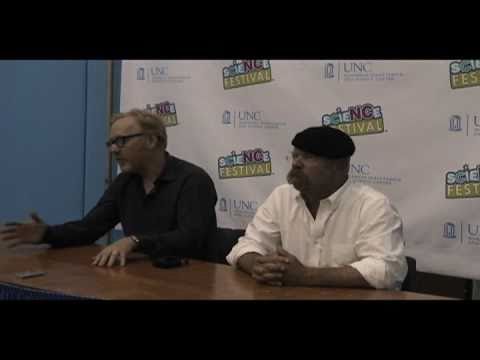 Don't Ask Me also busted myths. I remember vividly their very first episode – they answered the question "can newborns swim" by throwing babies into a pool. Aside from the fact that no IRB would allow such an experiment today, it is important to remember that back in 1970s this issue was resolved by science, but it was still a very contentious issue among the public. Miriam Stoppard knew very well that the babies she was throwing would actually swim, but half the audience did not believe it….until they saw it with their own eyes. That day, this myth was busted forever. And it made for great, exciting television!
What Mythbusters are doing right is not so much that they are driving thousands of kids into dead-end scientific careers. What they are doing – and what is really worthwhile – is that they are helping millions of their viewers internalize empiricism as the way to think about the world. Questions are not answered by preaching or lecturing or reading or studying at the Google University (although all of those are useful for getting additional information after the show), but by testing the claims by doing experiments. They are helping millions enter the Enlightenment worldview and way of thinking.
Furthermore, by not being scientists themselves, by not looking like scientists, dressing like scientists, talking like scientists, or repeatedly stating that what they are doing is science, Jamie and Adam make science approachable to everyone. If they can do science, everyone can. Just like in Victorian England, and just like Citizen Scientists today. They are not pointy-headed, elitist denizens of the Ivory Tower, but people just like you and me, people who have been given the resources to do what most of us would be able to do as well with some thinking and work. They are our representatives, members of our own community, not someone talking down to us from a position of power. And in today's climate in the USA, this is very important.
Finally, Mythbusters teach skepticism. Many of the myths they busted were strongly believed by millions…until they saw the show that obviously demonstrated that the myth is wrong. Sure, there are always a few die-hards who will contest everything to death, but most people accept what they see on Mythbusters and learn from it. And by watching the show regularly, they get into a skeptical habit that holds over in other realms of life as well – not trusting anyone (preachers, teachers, politicians, TV talking-heads, journalists, etc.) on their word, but demanding to see the data, the results of empirical work. Mythbusters are doing as much, or more, than Sagan and others did in the 1970s, to inculcate the public into a reality-based thinking. So what if sometimes they have N=1?