Archive for September, 2010
Monday, September 27, 2010, 10:28 am
1 Comment | Post a Comment
An oncoming heart attack tends to cause back pain and nausea in women and chest pain in men. Diuretics work better to treat hypertension in blacks than in whites. Asian Americans have higher cancer and tuberculosis rates than other ethnic groups and Latinos carry a higher risk to develop diabetes.
That one size doesn't fit all in understanding and treating disease is a topic for casual conversation around water coolers in many places. In North Carolina's Research Triangle Park area, it's a reason to hold a conference.
Dozens of epidemiologists, nurses and community activists spent a whole day talking about health disparities and research to abolish them at N.C. Central University, where the second Clinical Research Education Day took place Saturday.
They talked about the Diabetes Improvement Project in Durham, for example. Launched in 2005, it's an effort by Duke University, community organizations and churches to improve the health of African American diabetes patients. Diabetes is one of five conditions which disproportionally affect minorities; HIV/AIDS, cancer, cardiovascular diseases and obesity are the other four.
They talked about the African American Collaborative Obesity Research Network, or AACORN, a Philadelphia-based initiative that has collaborators at several universities in the RTP area. And they talked about how research programs team up with community activists to overcome racism in biomedical research and to recruit more minority participants for studies.
"No more Tuskegee," said Sharon Elliott-Bynum, a nurse and founder of CAARE, a community initiative that provides services to homeless veterans, substance abusers, HIV/AIDS patients and seniors. She was referring to the Tuskegee Syphilis Study, one of the worst examples of unethical biomedical research in the U.S.
"You can be an agent of change," Elliott-Bynum added. "But you've got to be at the table."
In an interview with Science in the Triangle, Elliott-Bynum, Lori Carter Edwards of Duke University and Cheryl Woods Giscombe of the University of North Carolina at Chapel Hill talked about how to improve research and get the study results to address health disparities. Listen to the audiotaped interview:
Audio clip: Adobe Flash Player (version 9 or above) is required to play this audio clip. Download the latest version here. You also need to have JavaScript enabled in your browser.
Monday, September 27, 2010, 1:11 am
1 Comment | Post a Comment
The Open Laboratory is the annual anthology of the best writing on science blogs. Yes, this is an actual, physical book, printed on paper.
The aim of the book is twofold: first, to showcase the quality of science blogging to the audience that does not read blogs and perhaps has a negative opinion of blogs due to the anti-blog propaganda in the mainstream media, and second, to build and strengthen the science blogging community.
The idea for the compilation came from a discussion between Anton Zuiker and a representative of the Raleigh-based online book publisher Lulu.com. They were trying to find a fun and useful way for the company to sponsor the first ScienceOnline conference (then called Triangle Science Blogging Conference). As it was late December 2006 there were only about four weeks left until the conference, so they thought there was not sufficient time to collect and publish such a book and have it ready in time for the meeting.
Read more…
Sunday, September 26, 2010, 2:47 pm
No Comments | Post a Comment
Over the next three years, Research Triangle Park-based MCNC will spent about $116 million to significantly expand the fiberoptic superhighway that most North Carolina researchers, teachers and public health officials use to generate, collect, crunch and store data.
The project will extend the N.C. Research and Education Network, which currently follows I-85 and I-40 from Charlotte to Raleigh, to rural areas along North Carolina's border with Virginia, in the mountains and along the coast. The additional 2,500 miles of fiberoptic cable will provide enough bandwidth to boost remote learning possibilities for teachers and students on the Internet, allow researchers hobbled by limited bandwidth capacity to do more data-intensive projects and open up opportunities for statewide research collaborations.
By 2013, when MCNC plans to be done laying the cable, North Carolina will have a fiberoptic infrastructure for research and education that will rival top-ranked networks in Massachusetts, New York, Michigan and Missouri, said Joe Freddoso, president and chief executive at MCNC.
"We will have an infrastructure that will carry us through the next couple of generations," Freddoso said during a presentation he recently made to members of TARDC, the Triangle Area Research Directors Council.
The funds for the expansion are largely federal stimulus money, but MCNC and the Golden LEAF Foundation, which administers North Carolina's tobacco settlement, also contributed.
Being able to generate, digest and analyze ever larger quantities of data is crucial and the growing appetite for computing power is turning the Triangle in an emerging hot spot for cloud computing.
N.C. State University, the University of North Carolina at Chapel Hill, SAS Institute in Cary and IBM in RTP are working on affordable ways to scale up the ability to store and crunch increasing amounts of data.
Interest in cloud computing, which taps existing computing capacity like utilities tap electricity from a grid according to demand, is particularly keen among researchers and organizations working in the public health arena.
MCNC's fiberoptic network is used by all institutions in the UNC system, all 2,400 public schools statewide, two-thirds of the 36 independent colleges and universities, nearly half of all the institutions in the state's community colleges system, research institutions and foundations, rural libraries, public health department and county health clinics. In a next step, MCNC wants to add all public hospitals in the state.
Also, remote or e-learning has taken off statewide. Enrollment has quadrupled since 2005 as more and more students make use of the computer as a classroom. Community colleges, for example, offer virtual classes in high schools that have no staff to teach the subject.
Already, MCNC has 3 million users on the network per day.
Because of its limited capacity and geographical reach, MCNC's existing fiberoptic network makes it difficult to accommodate all researchers in the state. Appalachian State University in Boone, Elizabeth City State University, UNC-Wilmington and UNC-Asheville are among the institutions that currently have to make do with a limited amount of bandwidth.
The network expansion over the next three years will also benefit the coastal studies institutes in Morehead City and on Roanoke Island and the National Climatic Data Center, the world's largest archive of weather data, in Asheville.
MCNC plans to lay 48 strands of fiber along the proposed routes. That's enough to add mobile connection points for researchers who, for example, work out in the field, take care of electronic medical records and lease bandwidth to commercial providers.
Saturday, September 25, 2010, 3:42 pm
3 Comments | Post a Comment
This Thursday and Friday I attended the Block By Block conference in Chicago, a meeting about local and niche online journalism.
The conference was organized by Michele McLellan (Twitter), a Reynolds Fellow, and Jay Rosen (Twitter), professor of journalism at NYU.
For various reasons (mostly personal and financial) I had to miss a number of interesting conferences this year, from Lindau Nobel meeting, through Open Summit in Berkeley, to Science Online London, but this meeting was worth the scramble and a tight-budget travel. Out of 120 participants, the only one I have met before in real life was Jay Rosen. But I knew a number of others from their online work – on Twitter, their blogs, their news-sites and in case of Scott Rosenberg (Twitter) also his excellent book which I keep recommending to everyone who is interested in blogs.
The first thing I did when I arrived was edit my name-tag. I crossed off "PLoS" and in its place wrote in big black letters ScienceInTheTriangle.com – the local, niche news-site we have been developing over the past three years or so. What we are doing with the site and our experiences with developing it were topics of interest for many of the people I met and talked to at the conference.
Read more…
Saturday, September 25, 2010, 10:28 am
6 Comments | Post a Comment
As the readers of this blog already know, Adam Savage and Jamie Hyneman of the Mythbusters show came to Chapel Hill last week and did an event at the Dean Dome on UNC campus as the starting event of the NC Science Festival.
I am not going to recap what happened, as Tyler Dukes, Ross Maloney and Maria Gontaruk did it masterfully last week. I want to think a little bit more about Mythbusters and what their show means in the ecosystem of science media and communication.
I assume that many will agree that the goal of science communication is not just to highlight the latest scientific findings, but also to educate the population about science: what it is, how it works, and to what extent should scientists be trusted. In a democratic society in which science is trusted, the population drives their leaders to adopt reality-based policy solutions to problems. Which is a Good Thing, I hope you agree.
There is an idea out there that science needs rock stars. The name bandied about as an example is usually Carl Sagan who seems to be beloved and deified by people of certain age, geography and socio-economic status. Thus the question is often posed as "How do we get a new Carl Sagan?".
But the media ecosystem is completely different today in comparison to the 1970s when Sagan and some others were on TV. Thus the question is erroneous to begin with. We have many, many science communicators who are much better than Sagan ever was. But in the new media ecosystem, they are relegated to the "pull media" instead of the "push media". They are all over the places visited by people who are already interested in science, but are effectively barred from the media with broad reach and wide audience.
So, we need to rethink our question. It is not "who can be the next Carl Sagan?" but "what works in today's media ecosystem?". We can try to get scientists onto TV, an uphill battle against the media houses, but we can also see what existing and popular shows already do a good job at pursing our goals: how science works, and why empiricism wins the day.
And "what works in today's media ecosystem", like it or not, is Mythbusters.
Sagan, Attenborough, Cousteau, Bellamy and others were scientists. Adam and Jamie are not – at least in the sense of not having formal education and degrees in science. Jamie grew up on a farm, and both of them went through a variety of jobs, mostly manual work, that required them to use ingenuity and come up with hands-on solutions to immediate problems in their work. Their life experience turned them into de facto scientists. If you agree that science is a refined and regimented common sense, Adam and Jamie have developed it to the maximum that an informal training can get one to. On one hand, they are a return to the era of Victorian gentlemen naturalists when doing science did not require a PhD in science – everyone could do it. On the other hand, they are the modern Citizen Scientists – where again, doing science does not require a PhD in science – everyone can do it.
One thing that Jamie and Adam stress is that their show is unlike any of the others we like to mention – they are not "demonstrations" or narrated visuals of the wonders of nature. They are experiments, answering real questions with real work. They start with a question and do not know what the final answer will be – and that is the key: their audiences are going with them for the ride knowing that this is not a high school science lab where answers are already known in advance. It is a journey that the audience takes together with Adam and Jamie.
Sure, the purists may object to some aspects of the methodology of their experiments – a sample size of one, for example – but Mythbusters is not a school program, it is a TV show, thus entertainment. Many of the tests they do are too big and expensive to be done more than once so a sample size of one is better than a sample size of zero (yes, I have seen wonderful N=1 papers in big journals, e.g., dissection of a whale tongue showing the counter-current arrangement of blood vessels published in Science – would you as a reviewer insist they kill a few more whales to up their sample sizes?).
There was a show, though, that was somewhat of a precursor to Mythbusters. It was Don't Ask Me which ran on ITV (and most of Europe) back in the 1970s, at the same time when Sagan and others had their heyday.
I asked Jamie and Adam if they ever saw that show and they didn't.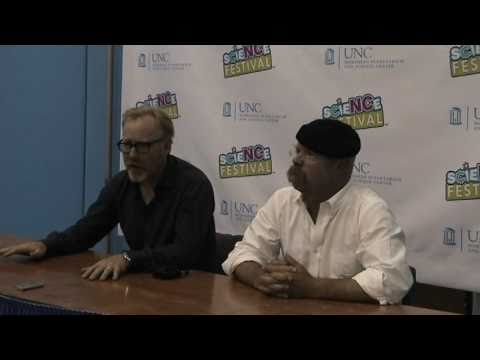 Of course, with so many decades in-between, there are some big difference between the shows, but as I mentioned, the show was just a precursor, a seed of an idea, that years later resulted in a full-blown realization of that idea in Mytbusters. For one, Don't Ask Me was filmed inside the studio, with a very small budget. There was no way they could do things that require a lot of space and money, or that involved huge explosions. It was obviously and transparently 'fake' – there is no way an audience member could stand up with a question and immediately have it answered with all the tools and props ready to go in the studio within seconds – that was obviously staged.
Also, some of the questions asked by the audience members were already answered by science before – the scientists knew it, but the lay audience did not. This made answering the questions easier, as Magnus Pyke, Miriam Stoppard and David Bellamy could confidently do their experiments, knowing in advance what the result would be. Much of what occurs on Mythbusters are really novel situations – answering questions for the first time in history, with the answer far from certain.
What unites these two shows is audience participation – the questions come from the public, the show acknowledges the questions (and even names or shows the face of the person who asked it), and then tries to answer the questions by doing experiments, not by lecturing or explaining or hand-waving (though Magnus Pyke did literally wave his hands a lot). Knowing or not what the answer would be, the show hosts and the audience go for the ride together – designing and doing the experiment – the exalted common sense that looks awfully like scientific method.
What also unites these two shows is how this audience engagement translates itself into real-world engagement. Watching BBC Survival, or Cousteau, or Attenborough was a solitary event – you turn on the TV, watch it, enjoy it, learn something, and that is it. If it is Sagan late at night, you fall asleep halfway through. But if it is Don't Ask Me, you discuss the show the next day at school or work. You debate the results of the experiments. This is exactly what happens today with Mythbusters – one thing that Jamie and Adam say they are the proudest of is that the morning after the show, kids ask their science teachers to discuss the show. Online world also discusses their show, especially if the results are difficult to interpret or bust some very dearly held myths.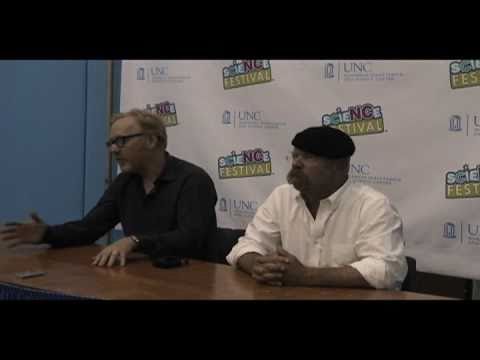 Don't Ask Me also busted myths. I remember vividly their very first episode – they answered the question "can newborns swim" by throwing babies into a pool. Aside from the fact that no IRB would allow such an experiment today, it is important to remember that back in 1970s this issue was resolved by science, but it was still a very contentious issue among the public. Miriam Stoppard knew very well that the babies she was throwing would actually swim, but half the audience did not believe it….until they saw it with their own eyes. That day, this myth was busted forever. And it made for great, exciting television!
What Mythbusters are doing right is not so much that they are driving thousands of kids into dead-end scientific careers. What they are doing – and what is really worthwhile – is that they are helping millions of their viewers internalize empiricism as the way to think about the world. Questions are not answered by preaching or lecturing or reading or studying at the Google University (although all of those are useful for getting additional information after the show), but by testing the claims by doing experiments. They are helping millions enter the Enlightenment worldview and way of thinking.
Furthermore, by not being scientists themselves, by not looking like scientists, dressing like scientists, talking like scientists, or repeatedly stating that what they are doing is science, Jamie and Adam make science approachable to everyone. If they can do science, everyone can. Just like in Victorian England, and just like Citizen Scientists today. They are not pointy-headed, elitist denizens of the Ivory Tower, but people just like you and me, people who have been given the resources to do what most of us would be able to do as well with some thinking and work. They are our representatives, members of our own community, not someone talking down to us from a position of power. And in today's climate in the USA, this is very important.
Finally, Mythbusters teach skepticism. Many of the myths they busted were strongly believed by millions…until they saw the show that obviously demonstrated that the myth is wrong. Sure, there are always a few die-hards who will contest everything to death, but most people accept what they see on Mythbusters and learn from it. And by watching the show regularly, they get into a skeptical habit that holds over in other realms of life as well – not trusting anyone (preachers, teachers, politicians, TV talking-heads, journalists, etc.) on their word, but demanding to see the data, the results of empirical work. Mythbusters are doing as much, or more, than Sagan and others did in the 1970s, to inculcate the public into a reality-based thinking. So what if sometimes they have N=1?
Friday, September 24, 2010, 3:15 pm
No Comments | Post a Comment
Monday, September 27
A New Era of Development Assistance: Problems and Opportunities
4:30 – 6:00pm
Sanford, Rm. 04, Duke Global Health Institute
Led by Charles MacCormack, CEO of Save the Children. This is part of the Rethinking Development Policy Lecture Series.
Tuesday, September 28
BioNetwork Course: Riboprinter Microbial Characterization
8:00am (Tues. 9/28) – 5:00pm (Thurs. 9/30)
BioNetwork Capstone Center, BTEC 250, 850 Oval Drive, Centennial Campus, Raleigh, 27695
Focuses on the operation of the Riboprinter, propriety instrumentation used to quickly and accurately charaterize and identify bacterial isolates in the pharmaceutical and other FDA-regulated industries. Lectures address the biology enabling operation of Riboprinter. Lab sections provide the students wiht hands-on experience. (2.4 CEUs)
NIEHS Seminar: Computational Genomics of Gene Regulation
11:00am – 12:00pm
NIEHS, Rall Bldg, Room D450
Speaker: Dr. Xiaole Shirley Liu – Harvard University. From Liu: High throughput genomics technologies brought a paradigm shift to gene regulation studies, but they also created challenges on data analysis. In this talk, I will highlight two studies conducted in my lab to show how computational and statistical algorithms could help remove the noise in the data, provide informative results, and help design efficient experiments.
Wednesday, September 29
CED 2010 Entrepreneurship Symposium
8:00am – 1:00pm
Fuqua School of Business, Duke University
Entrepreneurship is Everywhere! Every sized-company, every job function, every industry: Learn how to be an entrepreneur that drives innovation. Agenda as follows at link.
Thursday, September 30
2010 Molecular Biotechnology Research Symposium
8:00am – 5:00pm
McKimmon Center 1101 Gorman Street Raleigh, NC 27606
A symposium featuring presentations (poster and oral) by graduate students enrolled in the Molecular Biotechnology Training Program (MBTP) followed by an afternoon session at which distinguished speakers from NC State, the RTP area, and the nation discuss the latest developments in life sciences and biotechnology. Free!
10:00 – 11:00am
NIEHS, Rall Bldg. Room D450
Series: LMC SEMINAR SERIES Speaker: Thomas P. Zwaka, M.D. – Baylor College of Medicine, Houston, Texas. (Open to the Public)
Friday, October 1
25th International Festival of Raleigh
4:30pm (Fri. 10/1) – 7:00pm (Sun. 10/3)
Raleigh Convention Center, 500 South Salisbury Street; Raleigh, NC 27601
The Festival is a key component of the Triangle's cultural and artistic offerings with over fifty different ethnic groups participating. Attractions include great international food, cultural exhibits, ethnic crafts and lessons as well as bazaars with varieties of international items for sale. Two stages feature global dance performances and music, and the kid's corner offers fun for young citizens of the world. Join us for an entertaining, informative and delicious event, and discover the world of Raleigh!
——————————-
To view a complete calendar of RTP community events, please visit the Science in the Triangle calendar.
Wednesday, September 22, 2010, 4:04 pm
3 Comments | Post a Comment
A mother's womb is a protective cocoon, but it is also where humans for the first time encounter the world that awaits them after birth. This encounter happens through sound and touch and through the exchange of blood between mother and child. About 300 quarts of blood from the mother bring nutrient and oxygen to the developing child every day.
The blood also delivers industrial pollutants like dioxins, consumer products chemicals like flame retardants and chemicals that come from pesticides, according to a study by the Environmental Working Group, a Washington, D.C.-based consumer advocacy group. The study tested samples of umbilical cord blood from 10 babies born in August and September 2004 in U.S. hospitals for 413 toxins and environmental pollutants.
On Tuesday, Ken Cook, co-founder and president of the Environmental Working Group, presented the results of the 10 Americans study at the University of North Carolina at Chapel Hill as part of the N.C. Science Festival.
The pollution in people by the numbers:
Tuesday, September 21, 2010, 11:40 am
3 Comments | Post a Comment
Check out part 1 of the media event with MythBusters duo Adam Savage and Jamie Hyneman (part 2 below) | Video by Ross Maloney
Adam Savage and Jamie Hyneman didn't set out to be role models.
But since the debut of the Discovery Channel show MythBusters in 2003, the duo has amassed a huge following of all ages. That was clear from the 5,500 people who packed into the Dean Smith Center in Chapel Hill Sunday to hear them speak.
Savage explained the philosophy of the show is to simply chase down and answer questions that interest them – especially if that means blowing stuff up.
"We did not set out to be educational in any way," Savage said. "The narrative of the show is truly a narrative of our curiosity."
But to satisfy that curiosity, Hyneman said they needed to proceed methodically and carefully in their efforts to bust each myth.
"It just happens that the most efficient way to do that lines up quite nicely with science," Hyneman said.
Intentional or not, the Mythbusters' impact on science education has been huge. They were even invited to the White House as part of an event to promote science, technology, engineering and math education in November 2009. Then, there's what Savage calls the most fruitful result of his often destructive experimentation.
"Teachers tell us that Thursday morning after the show airs are some of the most fertile discussions they have in their classroom with the students," he said. "The fact that we get kids to talk to their science teachers is the proudest thing I've ever done in my life."
'A certain playfulness'
The pair points out that they appeal to their audience in a different way than shows like Watch Mr. Wizard and Bill Nye the Science Guy. Those "demonstration shows," Savage said, would explain a concept and show how it worked in practice.
"We are totally not a demonstration show because we don't know how it works," Savage said. "We're an experimentation show. When you're watching us figure out how something works on camera, you're really watching us figure out how something works on camera. I think that's one of the things that resonates with people."
The need to learn by doing is something both hosts, neither of whom have any academic science or engineering training, have exhibited since childhood. On his family's farm in Indiana, Hyneman said he would often find creative ways to avoid chores.
"I discovered that if I backed the lawnmower up and ran it into a tree repeatedly, sooner or later something was going to break and it took a while for my dad to fix it," Hyneman said.
That attitude, more practical than academic, is what continues to draw people to the show, Hyneman said.
"There's a certain sort of playfulness about what we do that makes learning fun," he said. "We mix half content, half play with what we're doing, and it works."
And whether that playfulness includes lighting farts or launching water heaters hundreds of feet into the air, they say their efforts to learn by experimentation fits with the essence of science.
"One of the things I think drives kids away from fields like science and math and engineering is the idea that there are these inviolate mountains of facts that one must simply learn," Savage said. "What we're demonstrating is that they're messy, they're creative. There's all sorts of stuff in there that people haven't answered."
"It points out to kids that science isn't just something for guys in lab coats," Hyneman said. "You can apply it to anything in your life."
What makes a myth
In their eight years of filming the show, Savage and Hyneman have solicited hundreds of myths from their fans. But to make the list of 60 to 80 potential myths they keep on hand at given time, a good myth must at least be subject to experimentation. That means no Big Foot or Loch Ness monster – and no quests to prove negatives.
"The 'woo-woo' is off our radar," Savage said. "We want to be able to test both sides of a question and find out if it really is as counterintuitive as the prevailing wisdom or not."
But some myths in particular get bonus points.
"A myth is a good story," Savage said. "Especially if someone was maimed or killed in a spectacular way – that's our bread and butter."
Now in their 200th hour of programming, the Mythbusters were back in their infamous shop Tuesday to resume filming, just like they do 46 weeks of the year. For fans of the show – and those who hope to one day become scientists and engineers – the Mythbusters said they're a long way away from running out of new things to learn and explore.
"The fact is that there are still things that no one's ever tried," Savage said. "You can solve problems that no one's ever solved, and we're showing that on a weekly basis."
"There's no end of shenanigans that we can sink our teeth into," Hyneman said.
Tyler Dukes is a freelance reporter and journalism adviser at N.C. State University. Follow him on Twitter as @mtdukes.
Video by Ross Maloney
Monday, September 20, 2010, 10:38 pm
1 Comment | Post a Comment
Ira Flatow, the host of NPR's Science Friday, skewered Harvard graduates who, wearing cap and gown, didn't know why it is hotter in the summer than in the winter. But he spoke fondly of Grace Hopper, the U.S. Naval officer who helped develop COBOL, one of the first modern computer programming languages.
He brought videos of both, the Harvard graduates and Hopper, to his presentation Monday at Duke University that was part of N.C. Science Festival.
In the Hopper video, the "Queen of Software" explained to David Letterman what a nanosecond is. On the show, which was taped shortly after her retirement from the Navy in 1986, she pulled out a bundle of wires, each about a foot long, and told Letterman that's the maximum distance light or electricity can travel in a nanosecond.
Hopper is a favorite, Flatow said, because she made something that was hard to understand – a billionth of a second – into something easy to grasp. And she was accurate and entertaining. Letterman could even pick a nanosecond color.
"We need scientists and engineers who are good at communicating," he said.
Why? Because American adults would flunk basic science. A recent survey by the California Academy of Sciences showed that, for example, 47 percent of respondents didn't know how long it takes the earth to revolve around the sun.
Americans want to know more about science, Flatow said. In a Pew Research Center survey a few months ago, 44 percent of the respondents said they want more news about science. That compared to 6 percent of the respondents who wanted more sports coverage.
But they're not getting it in the mainstream media, Flatow said. "It's becoming harder and harder for people like me and other science journalists to find a way to bring science to the public, when the mainstream media dumbs down science."
Experienced science reporters were the first ones to let go and science sections discontinued when the recession accelerated the damage the Internet had been doing to mainstream media. But the Internet is also where a grassroots science movement is bubbling up, Flatow said. Blogs, Facebook, Twitter are reinvigorating science communication. But how to pay for it is a question yet unanswered.
"Maybe in the future we'll see a golden age of science [communication]." he said.
Listen to Flatow answering questions by Science in the Triangle after the Duke presentation:
Audio clip: Adobe Flash Player (version 9 or above) is required to play this audio clip. Download the latest version here. You also need to have JavaScript enabled in your browser.
Watch the Letterman show with Grace Hopper: