Thursday, April 8, 2010, 3:29 pm
1 Comment | Post a Comment
I want you to take a minute to rethink your relationship to water. Because if you get your water from Falls Lake, then you can do the world a big favor by running right out and washing your car to get that green stuff off it. Or for that matter, taking a nice long shower to get that green stuff off you. Or even watering your lawn.
What? I am urging you to USE water?
I am doing just that. Not always – not even commonly. But today – right now. You'll be helping Raleigh and the Army Corps of Engineers if you do.
I hear you scoffing, so I'll explain.
Remember the drought? Yeah, that one, a couple years ago – Falls Lake was ten feet low, and we were letting our lawns dry out and our cars dust up and washing our babies' butts in tubs with only an inch or so of water, letting things mellow if they were yellow and taking all kinds of other conservation measures. If you recall, fortunately it started raining again, though we sensibly left in place basic conservation measures.
But remember last November? As recently as November 9th, 2009, Falls Lake, the only source Raleigh (and the almost half a million people to whom who Raleigh Public Utilities delivers water) has for its drinking water, was more than four feet low, down from its managed 251.5 feet above sea level to 247.45 feet. And remember – that doesn't mean the lake had gone from 251.5 feet deep to 247.45 feet. The Army Corps of Engineers, who manages the lake, measures not how deep it is but how high it is above sea level. The lake itself averages around twelve feet deep – which should tell you something about how much of it turns into dry land when it's four feet low. You can check historical lake depth, by the way, here.
I bring all this up because it started raining again in November and didn't stop for a while. At the moment I write this, the lake sits 8.64 inches high, at 252.22 feet above sea level (which you can instantly check here). That's worth knowing for a couple reasons: for one, we've had about eight inches of rain since January 16, and the lake rose more than eight feet in that time. That is, you can see that at our current level of ground saturation, an inch of rain brings the lake up a foot. Given that the Corps works to keep it at 251.5, that means that the work the Corps is doing now is counterintuitive: It's trying to drain our water source. At this very moment, they're dumping water out at the rate of 580 cubic feet per second (at the moment you read this you can get the exact total here).
Let me translate for you: each cubic foot of water contains 7.48 gallons, so 580 cubic feet per second equals 4338.4 gallons per second. Which keeps the kayakers in the Neuse just below the dam happy, but above all dwarfs the 80 or 85 cubic feet per second the city of Raleigh drains to supply drinking water for its customers.
So, okay, this takes a bit of rethinking.
The point is you need to understand your lake. Falls Lake is Raleigh's water source, sure – but it also provides flood storage to protect downstream communities (it can rise to 264.8 feet above sea level before it reaches the spillway – that will hold, by the way, almost twice the volume of the lake at its maintained level); it provides "water quality" storage – or water for constant releases to keep the Neuse River running at a healthy level. It also provides wildlife habitat and recreation opportunities. Five jobs the lake has – and the Corps keeps it at 251.5 feet because that's where it's designed to be. If Raleigh water customers get a little concerned about drought, the Corps doesn't hold back extra water – that soaks habitat, wrecks beaches, and may parch the people downstream.
Which means that when the lake gets high, the Corps works like hell to get it down to 251.5 feet again, releasing, in recent weeks, anywhere from a hundred cubic feet per second or so to nearly 3000. Now the lake hasn't had a drop of rain since March 29, and in that time, while you weren't paying attention, the water level has risen and dropped a foot and a half.
I'm advocating paying attention: doing a little backyard and online science without wearing a lab coat. That is, yes – we need to conserve water, but much more important, we need to be aware of our water. Good-natured helpful people were probably conserving water back in early February, because we've all been trained to conserve. Except the thing is, the lake was almost nine feet high then (it peaked at almost 260 feet on February 10), the Corps was releasing water at as much as 4000 cubic feet per second), and though I was preaching a gospel of 20-minute showers for everyone, not too many people were listening.
This is a pretty small point, but it's science and I think we should be doing it. I advocate, first, knowing where your water comes from — mine comes from the Upper Neuse River basin (interactive map; there's also a list of other NC river basins, so wherever you live you can get this data for your own source of water. And if you happen to reach this piece from outside North Carolina, you can find your watershed here). Next, learn what the conflicts are: Who's polluting? Who's cleaning up? Who's using and who's complaining? The USGS and the EPA put this information online because they want you to have it. In Raleigh we have predictable fights – when it's droughty, we want the lake release diminished, though the folks downstream in Goldsboro and Kinston don't find that neighborly; when it's hurricane season we want the lake low enough to absorb a Hurricane Fran if one comes by, whereas that's when the folks downstream would prefer Raleigh to not even flush its toilets for a week (our treated wastewater reenters the Neuse downstream, of course).
Everybody's talking about water right now: from NASA (http://launch.org/) to National Geographic, with its special issue about water, but water isn't something that happens to people in sub-Saharan Africa or from satellites in space. Water falls on your yard, fills your reservoir, comes from your faucet, travels to the sea — here's a video of a drop of water doing just that: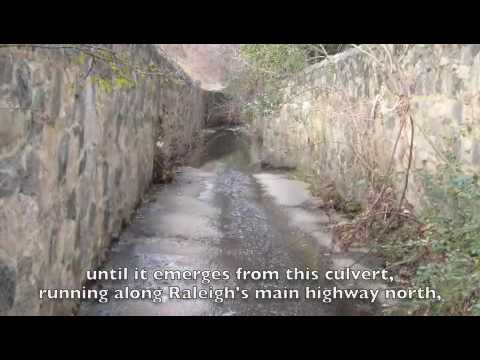 So anyhow, a small point: know your water. Know where it comes from. Check in on it to keep track: is this a time to conserve, or to use to my heart's content? Today the lake is high, so go wild. It's even supposed to rain soon, so Falls Lake will probably get higher again. And if science – organized observation of your surroundings, right? – does nothing more for you this week than get that green stuff off you and your car, that's still a good week for science.
And by the way, wash your car on your lawn, not the driveway. Let that good stuff percolate into the ground, not run off into a creek.